The International Society for Technology in Education (ISTE), the Council of Chief State School Officers (CCSSO), and the Council of the Great City Schools have formed a coalition focused on improving the selection and implementation of edtech tools in schools and accelerating interoperability and privacy practices at state and local education levels.
The Coalition's work will help ensure that state and district leaders, educators, and solution providers can easily build, find and access edtech solutions that uphold the highest privacy and interoperability standards.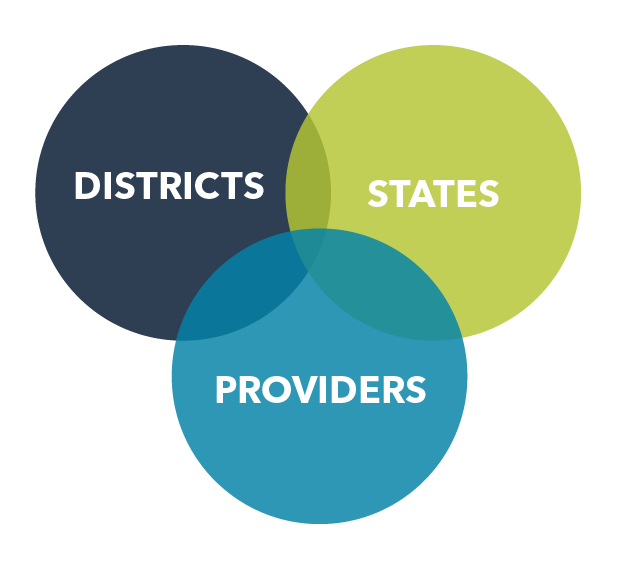 As part of this work, ISTE has formed the Education Industry Advisory Council (EIAC) to serve in an advisory capacity to provide input and feedback on various project initiatives to ensure that the Coalition's work is equally informed and driven by the provider community's needs. The EIAC will also support creating a strategy for designing business and technical models that fit the district, state, and vendor needs to develop cost-effective interoperable and privacy driven solutions within an education ecosystem. The additional areas of focus for the EIAC are:
participating in discussions to identify issues and needs from the perspective of the solution provider around interoperability, privacy, and procurement,
offering input on project activities such as the design of an EdTech product index designed to provide better visibility and access to EdTech solutions aligned to interoperability and privacy best practices,
serving as an advocate for the work of the Interoperability and Privacy Coalition.
Meet the EIAC Members
The council is made up of edtech companies that are committed to advancing interoperability and privacy practices within K-12 schools, states and edtech solution providers.
For more information about the council, the project, and its mission, contact ISTE Senior Project Manager Al Thomas at athomas@iste.org.